Understanding Our Work Process
Interested in working with us? Here's what to expect.
by
Dec 6, 2022
Knology is a research nonprofit dedicated to producing practical social science for a better world. As discussed in another post, one way we help make the world a better place is by contributing to scholarly research that offers a clearer understanding of the great social challenges of our age.
But understanding in and of itself is not enough. As a research-to-practice organization, we see our academic publications as a useful point of departure—as the beginning of a process that leads to the creation, implementation, and evaluation of policies, programs, and practices designed to materially improve the lives of those we work with and for. Our aim is not just to produce scholarly research, but to translate this into concrete, actionable knowledge that our partners can use to more effectively promote the public good.
How do we do this? Who are our partners, and how do we work with them? What are the non-academic outputs our work results in, and how exactly do these serve the public good? In what follows, we discuss our work processes.
What are the real-world issues we're exploring?
In our work, we draw on our varied disciplinary backgrounds to untangle the complex social challenges of contemporary life. Our research focuses on the biosphere, culture, media, and wellbeing, and we explore these topical areas along a continuum that runs from behaviors and norms through the systems that shape social interactions and human engagement with the natural world. Collaboration and transdisciplinarity are at the heart of our research process, as are five strategic goals that guide all of our work:
Be Critical Thinkers: Challenge the status quo by analyzing and reconstructing pathways to navigate the great social challenges of our time.
Inform & Shape Actions: Equip leaders through compelling social science research stories, to support evidence-based decisions and improved action for a better world.
Embody DEAI: Strive to integrate and personify principles and practices of diversity, equity, access, and inclusion in our workforce, workplace, and work community.
Strengthen Alliances: Invest in people and organizations working toward a common good by developing ideas, resources, and game-changing partnerships.
Refine Our Model: Cultivate our collaborative work philosophy—including internal operations, fiscal stability, and work processes—to make our non-profit model resilient and replicable.
Across all of our core research areas, we identify key social challenges and address them by asking questions linked to our strategic goals and the objectives of our partners and funders. For a full list of research questions and associated initiatives, please consult the main page for each of our research areas. Here, we share one question from each of our six areas of expertise:

How can we activate climate resiliency and environmental justice efforts, and help build a more sustainable natural world?

How do stereotypes, stigma, and bias impact the way different groups of people are represented in the media, and how can journalists and news organizations challenge these by crafting stories that create a pathway for social acceptance?

What differences do libraries and museums make in people's lives, and how can we help these cultural institutions make the communities they serve stronger, healthier, more informed, and more joyful?

How can we counteract the forces of ableism and racism to ensure equity in medicine and health?

How can we re-imagine interpersonal empathy to guide intergroup relations?

How can we help under-resourced and marginalized groups acquire the knowledge, skills, and tools needed for financial self-empowerment and economic independence?
What are our approaches to engaging these issues?
As a research organization, our approach to engaging pressing social issues begins with study and investigation. Committed to doing public social science, our research process is collaborative, context-based, and goal-oriented. We believe in participatory action, which means working from the ground up, engaging communities in dialogue to address the issues they care about, and actively involving community members as participants in co-created research. By treating community members as experts on their own lived experiences, we ensure that those most impacted by the challenges we're addressing have a voice, and play a role in decision-making and implementation processes. As we untangle complex social issues, our transdisciplinary approach helps build bridges between scientists, educators, program directors, and lay experts, leading to more inclusive forms of public dialogue and to the creation of diverse communities of practice empowered with the skills and tools needed to translate knowledge into actions that generate positive social outcomes.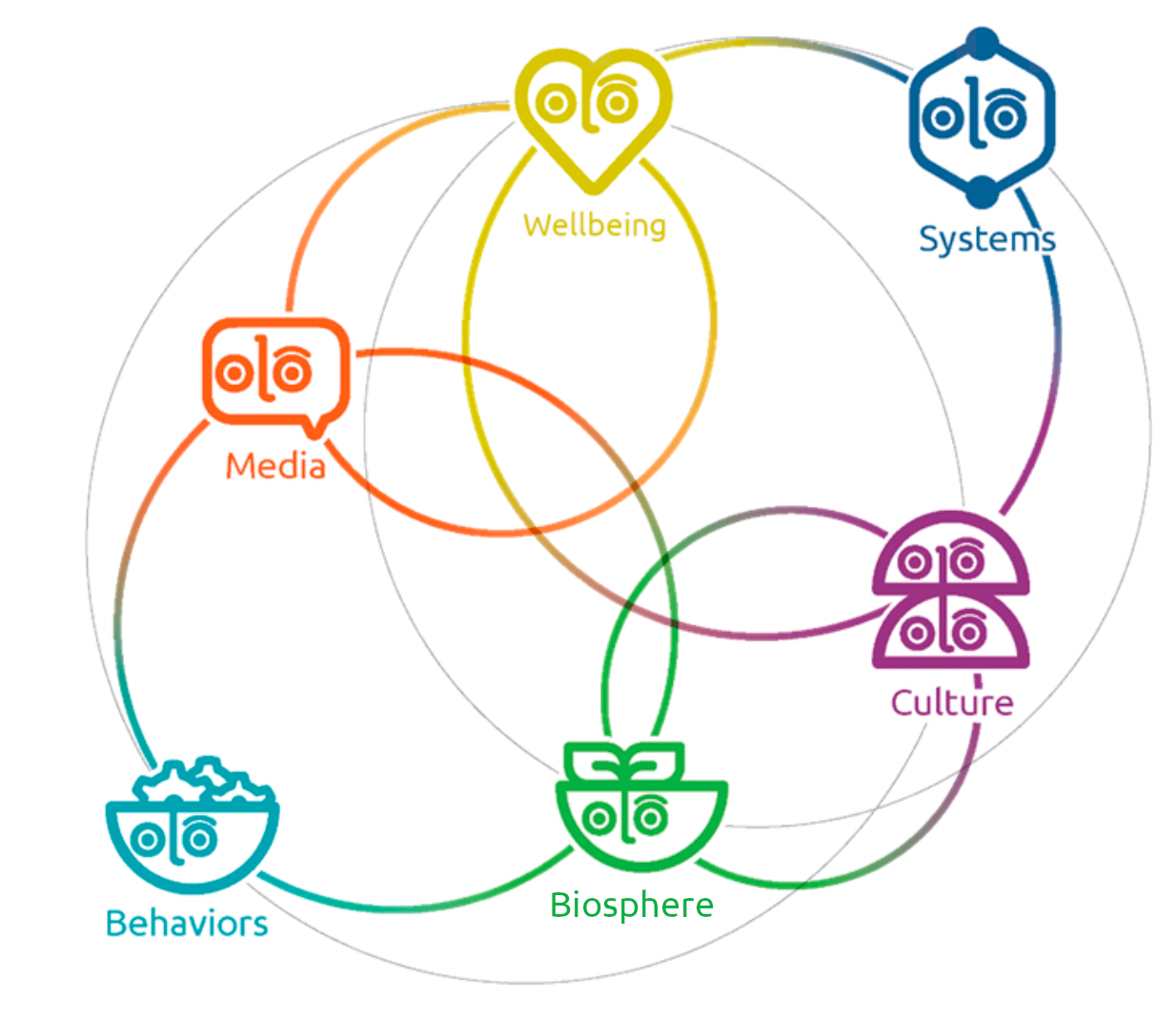 Who do we work with?
One of our key goals is to promote the idea of shared responsibility. No single organization or institution is capable of addressing a social issue entirely on its own. If we want to make the world a more just, safer, and healthier place, we need to bring together different kinds of individuals, groups, associations, and organizations, and forge partnerships between them in a way that makes it possible to pool resources in service of shared goals.
In recognition of the fact that we are better together than operating in isolation, our work connects leaders, decision makers, experts, and practitioners across a range of corporate, governmental, and non-profit sectors. Our partners include:
Media organizations
Health organizations
Public schools and universities
Cultural institutions (libraries, museums, zoos, aquariums, etc.)
Community organizations
Professional associations
Philanthropic organizations and foundations
Non-profit organizations
US federal agencies
We see our partners as key vectors for social change. Given their ties to communities and the general public, our partners allow us to ground our research, and provide the resources needed to translate knowledge into action. In other words, if we are "the theory," then often, our partners are "the practice." Through collaboration, we have the power to transform whole sectors, including: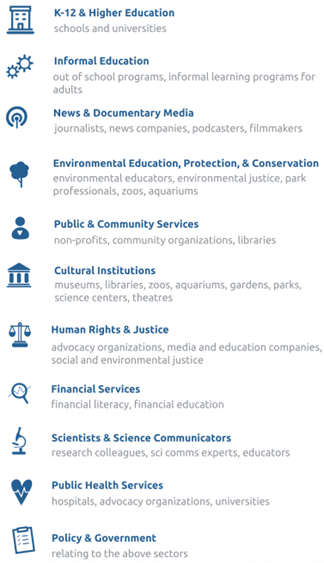 How do we work with our partners?
We work in several different capacities with our partners, including:
Research - Through competitive funding awards won from a combination of federal and non-federal institutions, we conduct original research related to our core areas of expertise;
Evaluation - Through funded grants, we work with nonprofit partners to evaluate the impact of their social interventions, and to help them develop strategies for more effectively achieving their goals.
Workshops - In order to show non-profit leaders how to take action based on our research, we offer workshops that focus on translating knowledge into actionable, evidence-based intervention strategies.
Expert Guidance - We offer guidance to nonprofit leaders that helps them understand social science theories and knowledge, and show them how to translate these into blueprints for action.
When working with partners, we use our resources both to identify important social issues and to devise evidence-based approaches to them. As thought partners, we lend conceptual clarity to planned interventions, helping other organizations understand how to bring knowledge to action. We do this through a highly interactive, collaborative process that revolves around strategic planning meetings, workshops, and training sessions. Through these capacity building exercises, we negotiate a shared point of view among project participants, and work with our partners to co-create the research questions, methodologies, and analytical tools needed to articulate and carry out their work.
We also help our partners think about their desired outcomes, and devise performance assessment tools that can be used to measure the impact of their work. During the implementation stage, we conduct embedded evaluations, tracking progress toward goals and issuing recommendations for program improvement that help our partners formulate long-term research agendas that go beyond a single project or intervention. Lastly, we engage in knowledge co-production and co-dissemination activities, working jointly with partners to author reports and other outputs that can raise awareness, shift priorities and resources, and serve as a foundation for subsequent interventions.
What kinds of outputs do we deliver, and how can they be used?
Our goal as an organization is to create new, more inclusive pathways for research in service of the public good. Toward that end, we produce resources that leaders, decision-makers, and professionals can use to strengthen the impact of their work. In addition to our scholarly publications, examples of these resources include:
Research reports
Position papers
Web articles and blog posts
Resource collections
Toolkits
Datahubs and data infrastructure
Logic models
DIY instruments
Action plans
Gap analyses
Literature reviews
Grant-seeking materials
In addition to publishing articles and reports on our website, we also produce digital content for our partners (for an example of this, see the analyses and case studies we regularly post on the American Library Association's Programming Librarian website). We also present research findings via social media, using Twitter (@KnologyResearch), LinkedIn, and YouTube to engage audiences and inform debates and discussions connected to our core areas of expertise.
Taken together, these outputs empower partners to create programs, policies, and practices that align with both stakeholder and community needs, and that help them broaden and deepen their impacts.
Our work is supported largely through competitive grants won from both federal agencies and private organizations. Since 2016, we have undertaken an average of more than 50 projects per year. Resulting in a diverse array of outputs (publications, workshops and professional development seminars, databases, toolkits, etc.), these projects have benefited non-profit leaders, business leaders, philanthropists, and academic researchers—along with the varied audiences served through our partners' work. For more on the results of our work, please see our "Social Impacts" statement.
Photo by Suzanne D. Williams on Unsplash