Books To Speed the Climate Response
Knology Teams Up with Springer Nature to Publish Timely Research
by
Jan 19, 2023
Since 2019, Knology has partnered with Springer Nature Switzerland AG, a prestigious global publisher of journals (like the Nature series) and books that provide guidance for social action in response to climate change. Our partnership has resulted in the creation of a book series called Psychology and Our Planet, which includes edited volumes, monographs, and technical briefings focused on the interaction between mental processes and the environment.
Our goal with this series is to help move research to action. At present, much of the research on the psychological aspects of climate change targets academic readers in their disciplinary silos. Given this, there is an urgent need to synthesize the results of existing studies in ways that advance both academic training and policy-making. The Psychology and the Planet series does this by providing a cross-disciplinary forum for psychologists to exchange ideas and collaborate on books that emphasize actionable knowledge and practical, real-world problem solving. The aim of the series is to publish books that explore the many different ways people understand themselves within the biological and cultural systems that shape the world, and that advance the kinds of informed, evidence-based decision-making processes needed to create a better future for people and the planet.
The series editor is Dr. John Fraser, a Research Fellow at Knology who served as founding President and CEO from 2012 to 2022.
The first two books are available for purchase through the Springer platform or through booksellers worldwide.
Zoos and Aquariums in the Public Mind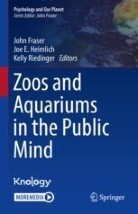 The first book in our series is called Zoos and Aquariums in the Public Mind. Edited by John Fraser, Joe E. Heimlich, and Kelly Riedinger, its eleven chapters offer a synopsis of recent psychological research on zoos and aquariums—including public perceptions of these institutions, the psychology of their use, and their contributions to learning and action around specific conservation topics. Whereas traditional accounts of zoos and aquariums focus on a relatively limited set of issues (for example, legal matters, biology and evolution, or the sociology of museum types), Zoos and Aquariums in the Public Mind is a broad-based, synthetic study, one that uses data from the past decade to deepen understandings of how these institutions are contributing to society. Click here to purchase the book through the Springer platform.
Disruptive Environmental Communication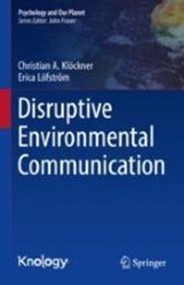 The second book in our series is called Disruptive Environmental Communication. Its primary authors are Christian A. Klöckner and Erica Löfström, two European researchers at the forefront of efforts to rethink approaches to environmental problems within the behavioral sciences. Departing from the field's traditional focus on incremental change, Klöckner and Löfström propose a radically new approach to creating sustainable futures—one that draws upon experimental research they're carrying out at the Norwegian University of Science and Technology. Key to this new approach is the concept of disruption, which is rooted in two important recognitions: (1) that we have an extremely limited time span for dealing with our contemporary environmental problems (be it climate change, biodiversity loss, resource overuse, or waste); (2) that solving these problems will require widespread social action. Over the course of the book's eight chapters, Klöckner and Löfström (along with several other contributing authors) explore how disruptive environmental communication can yield more active, emotionally engaged methods for driving people to climate action. Focusing on examples from the world of art, games, and design, the book explores what disruption means in a global context, and considers its implications for intercultural projects. Click here to purchase the book through the Springer platform.
Forthcoming in Fall 2023
The third entry in our series is called University Sustainability, and will be published in Fall 2023. Authored by Elise Amel and Christie Manning, this book explores the ways universities have contributed to unsustainable natural resource use, while also highlighting their potential as drivers of sustainability and regenerative work in the future. As universities look to redefine themselves for the 21st century, Amel and Manning offer insights as to how academic institutions can be transformed in ways that better support human well-being and more effectively respond to the challenges of the anthropocene era.