Knology Appoints Christine Reich as Chief Executive Officer
Accomplished nonprofit leader will drive social science research organization's continued growth.
by
Jan 5, 2023
Knology, a non-profit research organization, is excited to announce the appointment of Christine Reich, Ph.D., as the organization's new CEO. Reich will lead Knology in its mission to produce practical social science for a better world, furthering the organization's success in untangling complex social issues through grants-funded research and collaboration with partners across a wide range of non-profit, corporate, and government spaces.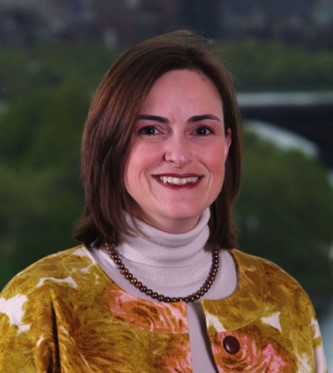 An informal education scholar who has spent the past 26 years in various leadership roles at the Museum of Science, Boston (most recently, as the Museum's Jane and Payson Swaffield Chief Learning Officer), Reich's training and work experience have bridged gaps between academic, non-profit, and local communities. After earning a B.S. degree in Agricultural and Biological Engineering from Cornell University, Reich obtained a Certificate in Museum Studies from Harvard University, a Masters in Museum Education from Lesley University, and a Doctorate in Curriculum and Instruction from Boston College's Lynch School of Education. Since 2014, Reich has served as an Adjunct Lecturer at the Harvard Graduate School of Education, where she leads a course in which students evaluate real-world projects born out of partnerships with for-profit and non-profit organizations such as WGBH, the Peabody Essex Museum, and the Children's Museum of Boston. She will retain her position at Harvard after joining the Knology team.
During her tenure at the Museum of Science, Reich founded and directed the institution's Research and Evaluation Department, spearheaded the museum's accessibility efforts, and led the development of numerous award-winning exhibitions—including "Arctic Adventure" (which addresses climate change), "The Science Behind Pixar" (which explores the computer science and computational thinking that goes into the making of animated films), and "Yawkey Gallery on the Charles River" (which examines the ties between nature and engineering). One of her most recent projects is "Mission: Mars," a Roblox gaming experience that engages children in developing engineering habits of mind.
As a researcher, Reich has published more than 30 peer-reviewed articles and delivered over 70 conference presentations, on topics ranging from organizational learning to emotional engagement in museum exhibitions to the inclusion of people with disabilities in museums. A strong advocate for inclusivity, she was honored as a "Champion of Change" by the Obama White House, and as a fellow by the Noyce Leadership Institute. Throughout her career, Reich has also played a leading role in the development of national museum networks. In addition to serving as the chair of the American Alliance of Museum's Committee for Audience Research and Evaluation, she has directed research and evaluation activities for the Nanoscale Informal Science Education Network (a $43 million project funded by the National Science Foundation). She also founded the Collaboration for Ongoing Visitor Experience Studies (COVES) program, which unites museums across the country for the purpose of collecting, analyzing, and reporting on visitor experience data.
As Knology's CEO, Reich will direct a transdisciplinary team of researchers who work collaboratively to develop new insights into the complex social challenges of the contemporary world. She will build upon Knology's success as a grants-funded organization that undertakes an average of more than 50 projects per year, has a strong track record of publishing in highly indexed peer-reviewed journals, and whose award-winning work output empowers partners such as the Association of Children's Museums, the American Library Association, Children's National Hospital, the National Endowment for Financial Education, the Association of Zoos and Aquariums, and PBS NewsHour to broaden and deepen their impacts through more effective policies, programs, and practices. Reich will also take on the role of Knology's Senior Research Officer, directing the organization's research agenda, and furthering its existing initiatives—which include financial education programs for youth, climate resiliency initiatives in underserved communities, human rights programming in the media, community engagement work in libraries, data literacy support for non-profit professionals, and health equity interventions among historically disadvantaged groups.
"I am honored to have the opportunity to lead Knology and work with its transdisciplinary research team and accomplished partner organizations to affect real-world change," said Reich. "Knology's focus on bringing knowledge to action through collaboration with non-profit and for-profit leaders makes it uniquely situated to directly impact so many critical issues of our time—including sustainability, wellbeing, and equity and inclusion. These are complex issues that require research-based insights to identify effective solutions."
Reich assumes the position previously held by John Fraser, Ph.D., AIA, who has directed the organization since its founding in 2012. Fraser will remain with Knology as a Research Fellow, leading its publishing agreements with Wiley and Springer Nature, participating in research projects on a part-time basis, and collaborating with Reich as she leads the next phase of Knology's growth. He intends to continue contributing to Knology's pursuit of practical social science for a better world as opportunities arise.
"As I step down from my position as CEO, I'm excited to hand the reins to the very capable Dr. Christine Reich," said Fraser. "We've known each other for many years, and I have confidence that her passion for excellence in research will be a great fit for the Knology culture. The future of Knology is in good hands."
Adam J. Wasserman, Chair of Knology's Board of Trustees, said, "We are grateful to Dr. Fraser for creating and growing Knology into a unique organization focused on leveraging the social sciences to make our world a better place. And we are extremely excited and delighted to have Dr. Reich join Knology as our next CEO to lead our multi-talented team committed to research in service of a brighter tomorrow."
About Knology
Knology is a social science research organization that brings knowledge to action. Our research seeks to improve human relationships with the environment, to help cultural institutions become agents of social change, to create more effective media, and to improve individual and collective wellbeing. We study these four topics by examining people's behaviors and the broader systems that shape our actions and choices.
We are committed to research in the service of practice. We work to facilitate exchange and interaction between experts, leaders, decision-makers, and practitioners across a range of academic, governmental, and non-profit contexts. By collaborating with front-line workers, we ensure that the knowledge we develop is used and shared in ways that can most effectively serve the public good. We empower partners to make research-based decisions, and provide them with the knowledge and skills needed to create stronger, more impactful programs, products, curricula, and interventions.
Learn more about Knology's impacts here: https://knology.org/about/our-impacts
# # #
Note to editors: Trademarks and registered trademarks referenced herein remain the property of their respective owners.
Contact for additional information or to request an interview: Elliott Bowen, Ph.D. elliottb@knology.org
General media inquiries for Knology: media@knology.org
Header photo by Patrick Tomasso on Unsplash
Comments
Fabulous news! It is hard to imagine Knology without John at the lead but Christine will continue the research and good work of the Knology team.
On Tuesday, September 19, 2023