ACM Trends: Data-Driven Outcomes for Children's Museums
A research-focused series has helped professionals identify and understand patterns in their field and plan for shifts that will influence their work.
by
Sep 9, 2022
Nonprofits, including cultural organizations like museums, zoos, aquariums, and libraries, fulfill important roles in society. They provide opportunities for the public to engage in various informal learning activities. These organizations need access to actionable research that they can use to identify gaps, improve their operations and programming, support performance benchmarking, and enhance professional skills development for staff and volunteers. Knology partners with professional associations to provide the kinds of insights that non-profit organizations, leaders, and professionals need to plan for the future and better serve their communities.
In 2016, Knology partnered with the Association of Children's Museums (ACM) to launch an initiative that does just that. The ACM Trends series publishes research to help professionals in the children's museums field to understand patterns and anticipate shifts that will influence their work. Each volume features a selection of reports focused on the unique needs of children's museums as a sector. Drawing on data pooled from ACM member institutions coupled with external public datasets, these reports provide practical synthesis on a range of topics, and summaries of the direct implications for the management of children's museums. Each report draws attention to an emerging issue or opportunity for the field, and suggests ways that leaders of children's museums can proactively use data to advance their work.
Since the publication of the first ACM Trends report in 2017, children's museums have used the information to understand and shape their operations. Below, we provide a brief synopsis of each report that has been produced as part of the series so far, starting with the most recent. Each report analyzes a single trend. We have categorized the reports by volume, and within each volume, we have arranged the associated reports by chronological order. For more information, please contact Shaun Field (shaunf@knology.org).
Cover Photo by Note Thanun on Unsplash
ACM Trends Volume 5
During the COVID-19 pandemic, many children's museums developed virtual programming so that they could continue to serve their communities. The reports in this volume focus on the experiences of ACM member institutions with creating and offering this kind of programming.
5.1: The Expanding Role of Virtual Programming in Children's Musuems

Knology and ACM launched the first in an annual series of discussion forums that are designed to address emerging questions in the museum field. The first forum focused on virtual programming developed by children's museums during the pandemic. This report summarizes conversations from that meeting. It captures children's museums' experiences with creating online programming, and the challenges with continuing it as they re-open their doors.
5.2: Parents & Caregivers Preferences for Virtual Programming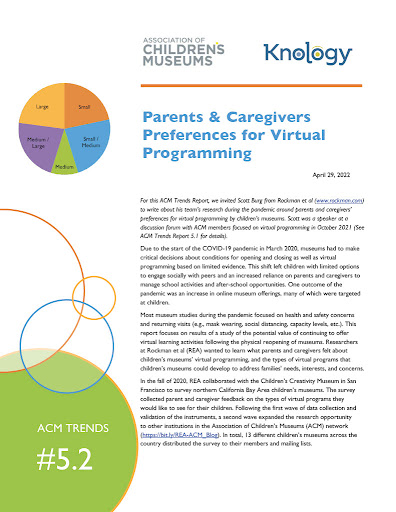 Scott Burg from Rockman et al (REA) writes about his team's research around parents and caregivers' preferences for virtual programming from children's museums during the pandemic. REA collaborated with 13 children's museums across the country to collect survey information from more than 1,200 parents and caregivers between November 2020 and January 2021. Although there were clear preferences shared by respondents for certain kinds of content, there were also significant divergences in the degree of concern over screen fatigue. Click here to read more about REA's analysis of the data.
5.3: Key Concepts: Trust
This ACM Trends Report delves into the topic of trust, which is particularly important as museums reach out to new audiences with activities such as virtual programming. Knology researcher John Voiklis shares what research suggests about the nature of trust and its impact on the relationship between a museum and its audience(s). Voiklis offers children's museums some preliminary advice on how to apply these principles, drawing from a large-scale study that Knology conducted with institutions that play a similar role in the social, emotional, and cognitive development of children: zoos and aquariums.
5.4: Virtual Programming in Action: National Children's Museum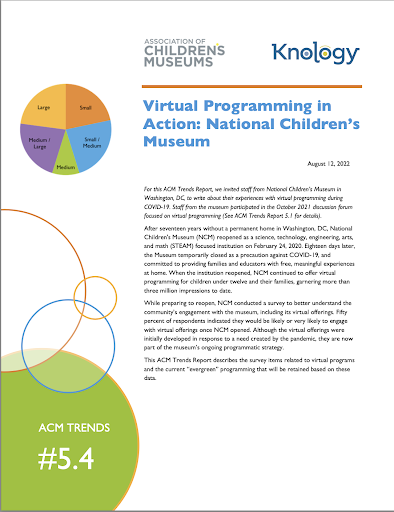 We invited staff from National Children's Museum (NCM) in Washington, DC, to write about their experiences with virtual programming during COVID-19. This trends report (1) looks at the different kinds of virtual programming offered at the museum during the pandemic; (2) provides metrics of engagement with their online offerings, as well as (3) provides insights into the decisions that NCM made about the future of virtual programing on the basis of these data.
ACM Trends Volume 4
The reports in this volume focus on the impact of the COVID-19 pandemic on ACM member institutions, and the implications for the sector as a whole.
4.1: Museums in a Pandemic: Snapshot of Impacts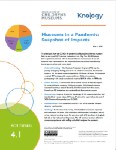 The first report in this volume provides an early overview of the initial effects of the COVID-19 pandemic on children's museums. It highlights their efforts to find funding, plans for the immediate future, and the effects of the pandemic on staffing and memberships. The following reports delve more deeply into these topics.
4.2: Museums in a Pandemic: Financial Impacts by Mid-May 2020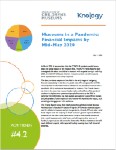 This report focuses specifically on the field's early efforts to navigate financial sustainability in the wake of the crises. The results can help museum leaders identify next steps, as well as guide their efforts to advocate for support from funders and policymakers.
4.3: Museums in a Pandemic: Workforce Impacts
This trends report focuses on the children's museum workforce. Specifically, it looks at the effects of the pandemic on full- and part-time staff, as well as volunteers. Its findings offer opportunities for children's museums to reflect on staffing decisions. The report also addresses children's museums' efforts to communicate with personnel throughout the pandemic.
4.4: Museums in a Pandemic: Impacts for Audiences & Partners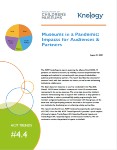 This Trends Report focuses on what children's museums' efforts to support their audiences as they prepare to reopen and restart public programming. It also explores how museums are trying to find support for their work by cultivating new or enhancing existing partnerships.
4.5: Museums in a Pandemic: Snapshot of Impacts in Fall 2020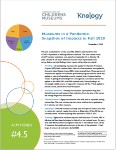 The fifth report in this volume provides a picture of the children's museum field six months into the pandemic. It presents initial impressions of data on funding, financial reserves, collaborations, opening for in-person visitors, and staffing.
4.6: Museums in a Pandemic: Audience Experiences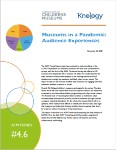 This Trends Report features the complexities of reopening museum buildings to in-person visits, and the costs involved in this undertaking. It examines the wide range of public health and safety measures museums have put into place, and the ways that they have managed on-site visitors. This report also offers a glance at initial costs of reopening for different sizes of museums.
4.7: Museums in a Pandemic: Diversifying Funding Streams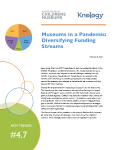 This Trends Report explores the changing landscape of funding and fundraising during the COVID-19 pandemic. With data from a fall 2020 survey, it shows how children's museums have pursued a variety of funding sources. Federal sources continued to play a strong role for these institutions. Meanwhile, private funders -- foundations, corporations, and individual donors -- became increasingly important to children's museums. We also take a look at the entrepreneurial strategies some museums leaders have tried.
4.8: Museums in a Pandemic: Social & Health Services Collaborations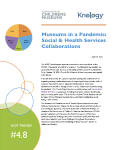 What do collaborations look like during the pandemic? During this time of experimentation for children's museums, collaborative work can take on new signifnance and novel formats. The Trends Report is the first of three to analyze the new or expanded collaborations. This study examines the ways that institutions have partnered with social and health services, including food banks, shelters, blood banks, and community health clinics. It tells the story of four children's museums: Above & Beyond Children's Museum, The Children's Museum of Greater Fall River, Bucks County Children's Museum, and Pretend City Children's Museum.
4.9: Museums in a Pandemic: Snapshot of Impacts in Spring 2021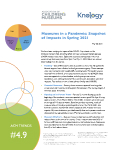 This Snapshot Trends Report provides a brief summary of the results of the spring 2021 survey of children's museums during the pandemic. It covers funding, financial reserves, opening for in-person visits, and the status of museum workers.
4.10: Museums in a Pandemic: Collaborations with Cultural Institutions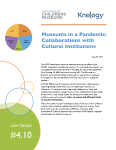 This Trends Report continues the three-part series on collaborations during the pandemic. This time, we examine children's museums' collaborations with other museums and different kinds of cultural museums, including an orchestra, a library, and other children's museums. It features stories from the Building for Kids Children's Museum and KidsQuest Children's Museum.
4.11: Museums in a Pandemic: School & University Collaborations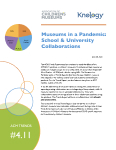 This Trends Report is the final in a three-part special series about children's museums and collaborations. This study explores the most common reasons that museums partnered with schools and universities during this time. It focuses on the collaboration experiences of three institutions: The DoSeum, The Children's Museum of Richmond, and Play Africa.
4.12: Museums in a Pandemic: Personnel & Rebuilding Teams
This Trends Reports discusses the impacts of the pandemic and other factors on staffing over from May 2020 to May 2021. It focuses on the ways that museums' full-time staff have been affected, compared to part-time staff. Acknowledging the contributions of many types of personnel, this study also looks at contractors and volunteers. While this Trends Report documents the ways that children's museums' teams have been impacted, it also shows that museums have started the process of rebuilding their teams.
4.13: Museums in a Pandemic: Patterns in Fundraising

This Trends report looks at the pandemic's impact on donations made to children's museums including those from corporate and private donors. Specifically, we assessed how fundraising levels at the height of the pandemic in 2020 varied from giving in pre-pandemic times. The goal of the assessment was to identify useful patterns in donations to children's museums, to help guide future fundraising efforts.
4.14: Museums in a Pandemic: Confidence in Meeting Operational Needs

The final report in volume 4 assessed staff confidence that they could meet the financial obligations of their museum. It explored the funding sources available to children's museums, and their ability to raise needed funds during the COVID-19 pandemic. The report also looks at some of the reasons that staff at children's museums felt confident that they could continue their operations.
ACM Trends Report Volume 3
This volume of the Trends Reports focuses on philanthropic foundations engagement with and support for children's museums. It also assesses some of the diversity measures that museums use.
3.1: How are Foundations Investing in Children's Museums?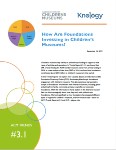 This first report focuses on philanthropic investment in children's museums. Using a representative sample of data on foundations' involvement, this report looks at how philanthropic foundations have targeted different types of support for children's museums, as well as the role that museum size plays.
3.2: Changing Priorities in Foundation Grants to Children's Museums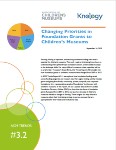 How have foundation grants to children's museums changed in recent years? This report explores fluctuations in the focus of foundation grants from 2007 to 2015. It offers insights to help children's museums adjust their fundraising strategies to pursue avenues best suited to their needs and size.
3.3: Measuring Diversity in Children's Museums & Their Communities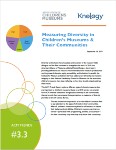 How are children's museums addressing questions of diversity and inclusion? This report considers the different types of diversity measures that are important to children's museums.
ACM Trends Report Volume 2
This volume of the Trends Reports uses various measures to assess the economic impact of children's museums.
2.1: The Economic Impact of Children's Museums: The Ripple Effect of Spending

This report explores the large-scale impacts of children's museums' economic activity. It covers different ways of talking about economic impact, and shows how children's museums of different sizes can have a substantial impact on national economic activity.
2.2: The Economic Impact of Children's Museums: Our Jobs, Their Jobs, All Jobs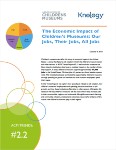 This report explores how spending in children's museums relates to job creation, and how their employment and spending practices contribute to job growth. It also explores how these institutions affect jobs in other sectors.
2.3: The Economic Impact of Children's Museums: Region Matters

This report explores how children's museums' spending on operating costs and employee salaries helps to support the economies of regional communities. It explores the economic contributions of children's museums in eight economic regions across the US.
ACM Trends Report Volume 1
This first volume of the Trends Reports analyzes specific characteristics of museums including their size, needs, audiences, community engagement, funding sources, and more. Each report highlights opportunities for children's museums of all types to grow and expand their audience base.
1.1: Measuring Museum Size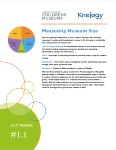 Size plays an important role in how museums operate, what community resources they receive, and what audiences they serve. This report presents four proxies used to categorize museums: total operating expenses, number of paid staff, total interior space, and attendance by visitors of all ages. Results presented in subsequent reports in this volume are separated by museum size.
1.2: Small Museums: Priorities and Opportunities for Growth
Small museums deliver a lot of programs with few resources particularly for school-age children. To reach new audiences and grow, they can leverage their expertise in early childhood development and learning to develop teacher training resources. Furthermore, increasing their investment in school-based outreach may also help these museums reach new audiences.
1.3: Medium Museums: Priorities and Opportunities for Growth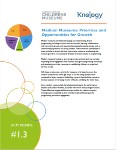 Priorities for medium-sized museums include developing and implementing diverse programming for special groups. To keep growing, these museums should expand direct engagement with teachers through training workshops, developing curricular resources, and providing on-site childcare or preschool services. Furthermore, adding an on-premise eating facility may help these museums attract more visitors and create a new revenue stream.
1.4: Large Museums: Characteristics and Comparisons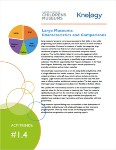 Large museums have access to greater resources, and as a result can offer more programming for diverse audiences. These museums are the most likely to run school outreach and offer recreational programs for children such as summer camps. They also have the highest ratings for community engagement, and almost all provide an on-site eating facility and gift shop. Their top needs include new funding opportunities, administrative reorganization, and general operating support.
1.5: Museum Accomplishments and Needs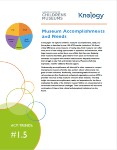 An analysis of over 100 ACM member institutions revealed critical differences in accomplishments, needs, and plans across children's museums of varying sizes. For example, in terms of accomplishments, small museums highlighted new funding opportunities or expansions and renovations. Large museums, in contrast, highlighted new exhibits that they were displaying. Lastly, museums of all sizes need additional financial support.
1.6: Reaching Nontraditional Families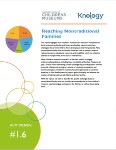 This report describes the specific challenges faced by nontraditional family units and offers recommendations for how children's museums may best engage and support them. Many children's museums consider it part of their mission to engage nontraditional families, who often face obstacles such as poverty, and reduced access to educational resources. They have the opportunity to use their expertise in child development to better support these families and their children.
1.7: Using Museum Size & Locale to Understand Capacity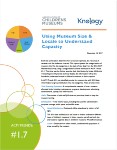 This report updates the categorization of museums into five size categories based on new data from an ACM Membership Survey. It uses several proxies to group institutions into the new size categories. These are: total operating expenses, number of paid staff hired to run the museum, building size, annual attendance by visitors, and location.
1.8: Community Engagement: Children's Museums as Community Facilitators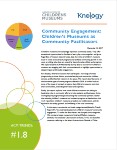 This report explores how children's museums engage with their communities and highlights opportunities to deepen and broaden that engagement. It describes onsite and outreach programs that some museums are offering as well as highlights ways that they are taking on leadership roles in their communities.
1.9: Investing in Systems for Learning: Facilities, Audiences, & Partnerships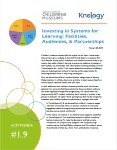 In this report, we sought to understand how children's museums invest in systems that enable children's learning. Specifically, we looked at how the design of children's museum facilities support learning, the distinct audiences that they offer programming for, and how museums partner with other learning organizations such as schools and libraries.
1.10: Making a Museum Sing: the Children's Museums Workforce
This report focuses on how children's museums use their personnel, support their team members, and opportunities for optimizing the children's museums workforce. It explores the different kinds of labor in children's museums as well as how trends in the workforce and volunteering may be affecting them. It also looks at the costs of supporting personnel including investments in professional development.
1.11: Where's the Money Coming From? Children's Museums' Operating Budgets in 2016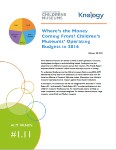 This report looks at children's museums' overall income and major sources of funding. It also looks at how children's museums' operating incomes measure against those of peer institutions.
1.12: Where's the Money Going? Children's Museums' Expenses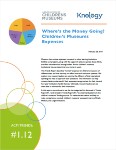 This report looks at how children's museums use their income and funding. Specifically, it describes "normal" expenses for children's museums of different sizes, the effect of size on institution's operations, and ways that museum leaders can examine the efficiency of their operational spending.