Introducing the 2020 Curator - Knology Writing Scholars Workshop
Emerging professionals from across the United States publish about museums and personal identity
by
Mar 30, 2020
The museum field is increasingly reflecting on power structures in debates on fair wages, funding sources, collecting practices, and more. Publishing about museum scholarship is part of these conversations: Who gets to publish their ideas? Which museum topics are considered worthy of publishing? Whose perspectives aren't being published?
Curator: The Museum Journal and Knology are hosting the first-ever Writing Scholars Workshop, a professional development program designed to train emerging museum professionals to publish their scholarly work. This initiative will not only elevate the voices of a new generation of museum workers, it will also advance the museum field's dialogue about critical topics and practices.
The 2020 Writing Scholars Workshop is focusing on the intersection of museums and personal identity. The inaugural class consists of 12 museum professionals from across the United States, who have pursued these topics in graduate school and their professional work. These individuals joined the Writing Scholars Workshop to explore the journal's archives that date back to 1958, participate in the peer review process, and prepare their own scholarly work for publication.
The Writing Scholars' work will be featured on Curator and Knology's sites, as well as in print issues of the journal. Starting in March 2020, Curator will be publishing the scholars' Virtual Issues, articles that are a deep dive into the Curator archives about a single theme, synthesizing articles from the past for the intersection of personal identity and museums. Every article referenced by the Virtual Issues will be open access for all readers online. See the Virtual Issues here. If you'd like to get updates on new publications from the Writing Scholars, as well as news about future opportunities, sign up here.
The 2020 Writing Scholars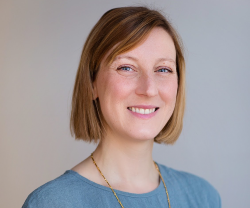 Alice Anderson - Alice (She, her, hers) is the Manager of Audience Research and Impact at the Minneapolis Institute of Art (Mia), where she studies what people think, feel, and learn through informal learning experiences. At Mia, she develops and implements program evaluation and audience research initiatives to understand Mia's audiences, educational programs, exhibitions, and social impact. She has led evaluations and research studies of digital media resources, maker education programs, and professional development programs in formal and informal learning contexts. Alice holds an EdM in Human Development and Psychology from the Harvard Graduate School of Education, and a BA in Art History from Grinnell College. As a member of the Writing Scholars Workshop, her goal is to learn from other passionate colleagues about the challenges and rewards in their own work to further her own thinking around complex issues such as equity, identity, and impact.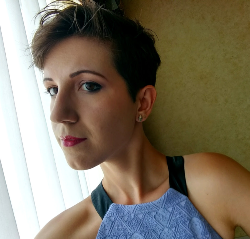 Kelsey Brow - Kelsey (She, her, hers) is Executive Director at the King Manor Museum, one of the longest-operating historic house museums in NYC, which interprets the life and times of founding father Rufus King to foster critical thinking.Trained in the study of decorative arts and material culture at the Bard Graduate Center, Kelsey's academic work focuses on the intersection of consumption, trade, and ethics with material culture and the decorative arts. She is actively involved in the museum community through volunteering with the American Association for State and Local History, and is Queens Chair of the NYC branch of the Emerging Museum Professionals Network. As a member of the Writing Scholars Workshop, Kelsey hopes to connect her specialization in small museums with the larger scholarly museum community. She hopes the workshop pushes her to re-engage with academic discourse, and prevents her practice from being bogged down in the day-to-day and the hyper-local.
Joshua Buckner - Joshua (He, him, his) is originally from Birmingham, Alabama. He grew up surrounded by history, but never truly saw himself reflected in historical interpretation. He earned his MA in Museology from the University of Washington's Museology Program in 2016. In his studies, he focused on LGBTQ+ interpretation in museums, and how museums can become sites for discussions around social issues specifically related to the LGBTQ+ community. Joshua now lives in the DC area where he focuses on collection management for the United States Army Center of Military History. As a member of the Writing Scholars Workshop, Joshua hopes to find a creative outlet to continue sharing his passion for incorporating LGBTQ+ histories in museums through writing and collaborating with fellow museum professionals. He also hopes the Workshop provides an opportunity to publish his previous work, and to further expand the literature surrounding museums and LGBTQ+ interpretation.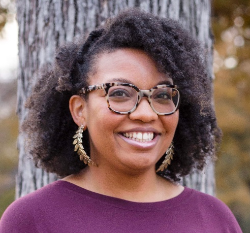 Lauren Cross - Lauren (she, her, hers) is an artist-curator-scholar, Program Coordinator & Senior Lecturer of the Interdisciplinary Art and Design Studies program at the University of North Texas, and founder of the arts non-profit, WoCA Projects, in Fort Worth, Texas. She holds a BA in Art, Design, and Media from Richmond, The American International University in London, an MFA in Visual Arts from Lesley University, and a PhD in Multicultural Women's and Gender Studies from Texas Woman's University. Lauren's research specializes in the practice of womanism, black feminism/women of color feminism, and women artists of color in museums and cultural institutions. As a member of the Writing Scholars Workshop, Lauren is interested in publishing the critical writing on womanist curating within museums that she developed through her doctoral dissertation, WoCA Projects, Building Communities Through Exhibitioning: Curating and Creating Spaces for Women Artists of Color. As a visiting artist who is frequently commissioned by museums to bring in new audiences, she is interested in exploring how womanist artistic and curatorial practices bring new perspectives on community to museums.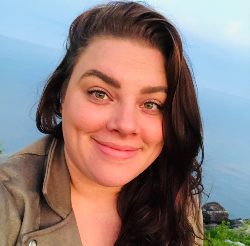 Abigail Diaz - Abbie (She, her, hers) is a Virginia native with a passion for museum education and accessibility. Abbie has worked at thirteen cultural institutions across four states in the past decade. She is currently the Director of Education and Programs at the Wisconsin Maritime Museum, and on the Board of Directors of the Museum Education Roundtable. Abbie's work is focused on making the heritage sector radically inclusive. As a certified ADA Coordinator, Abbie works to create a barrier-free experience at museums for everyone including people with disabilities. Current work initiatives include building underwater robots with special education classes, and creating meaningful watershed education lesson plans for students of all abilities. Abbie has led staff trainings, presentations, and workshops on access and inclusion, and is the proud sister of and caregiver to her brother with disabilities. As a member of the Writing Scholars Workshop, she hopes to better understand how to communicate more academically and professionally to publish some of her work on inclusive field trips.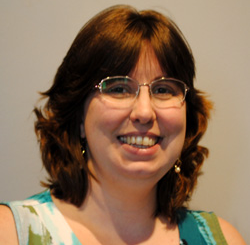 Tiffany Isselhardt - Tiffany (She, her, hers) of Bowling Green, KY, is a public historian specializing in the historical interpretation of girls, the use of material culture as an interpretive tool, and museum administration. Building on a childhood love of Indiana Jones, visiting historic sites, and reading women's history, Tiffany researches girls as a marginalized and intersectional population, hoping to increase their representation in historical narratives and encourage museums to focus on girls as agents rather than subjects. As a member of the Writing Scholars Workshop, Tiffany hopes to refresh her academic writing skills in preparation for pursuing a doctoral degree as well as write case studies for scholars and museum professionals to better incorporate girl studies in their work. Seeing most museums ignore interpretation from a girls' perspective, she hopes putting academic context to her work will encourage others to redress centuries of marginalization and welcome girls as distinct museum-goers.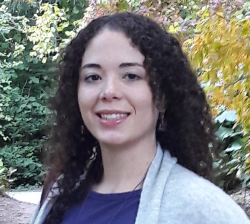 Pamela Maldonado - Pamela (She, her, hers) believes that being in front of a work of art that draws you in is one of the best feelings, and that being able to talk with someone about your passion can be even more powerful. As an educator, she appreciates sharing those moments with learners. Pamela wants to provide spaces for curiosity, free-choice learning, and create inclusive experiences for learners of all ages. She lives in Seattle, WA and works in the education department at the Burke Museum of Natural History & Culture at the University of Washington. As the BurkeMobile Program Manager, she leads the outreach program that visits schools and communities across the state. In 2018, she earned an MA in Museology from the University of Washington. Her research was on bilingual Spanish programs for families in art museums, and she plans to continue to connect this to her current role. She hopes that as a member of the Writing Scholars Workshop, she will have opportunities to write, reflect, and share about ways that museums can be welcoming and accessible spaces for learners that speak languages other than English.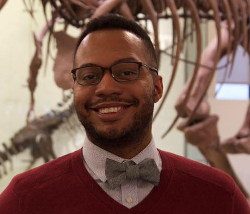 Nick Martinez - Nick (He, him, his) is a native New Yorker who works at the intersection of museum education, youth and workforce development, and science. He has a BA in Anthropology from Stony Brook University, and an MA in Public Administration from Baruch College - The City University of New York. His passion is developing strategies to support historically under-represented groups' interest in science, and support their retention and growth in the field. At the American Museum of Natural History, he focuses on managing museum internship experiences and engaging in science outreach to communities of color. As a member of the Writing Scholars Workshop, Nick hopes to gain experience with scholarly writing, and to continue working on interest development. He splits his writing between two main interests: museum strategies for addressing non-participation, and STEM identity formation through Out-of-school-time experiences for young people of color. He hopes the Workshop allows him to tie these two interests together to better understand identity formation through museum participation among communities of color.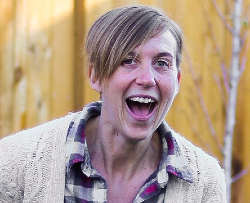 Michelle Mileham - Michelle (She, her, hers) grew up exploring nature and visiting museums with her parents. These experiences led her to study environmental sciences and informal education, areas in which she later earned a Ph.D. from Oregon State University. Michelle now lives in Salt Lake City, UT, working to bridge environmental education, free-choice learning, and conservation. Recognizing her privilege in being able to have nature and museum experiences, Michelle focuses on creating equitable and accessible museum programs for children and adults. Storytelling and meaning making drives her work in developing and facilitating education programs, drafting interpretive signs, and evaluating audiences. As a member of the Writing Scholars Workshop, Michelle hopes to network with other museum professionals interested in identity, and to get help with writing and publishing scholarly pieces. She hopes the Workshop inspires her to publish unique aspects of her dissertation, including narrative analysis of environmental identities.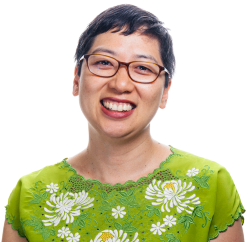 Cecilia Nguyen - Cecilia (She, her, hers) is a senior exhibit developer at Oregon Museum of Science and Industry in Portland, OR. She holds a BA in music from Reed College and a BFA in industrial design from California College of the Arts. While in her first year of studying industrial design, a single museum experience ignited a passion and sense of purpose for a creative that was more of a thinker than a maker. Cecilia now leads research and development for exhibitions and multimedia experiences, and works with content experts, museum visitors, youth, and community members to help shape exhibit experiences. An insightful colleague said recently that for people with nondominant identities, there is power in "being seen" or known as an active presence. As a member of the Writing Scholars Workshop, Cecilia is very glad for the opportunity it offers for people with underrepresented identities to come forward, be known, and bring their perspectives to the thinking and practices of the museum field.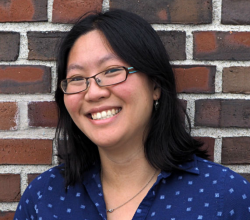 Sunewan Paneto - Sunewan (She, her, hers) grew up in Chicopee, MA where her mother instilled a fondness for museums and learning by taking her to the local museum on a regular basis. During her childhood, she developed an interest in how the human mind works. She pursued a BA in Psychology at Clark University, researching how people's emotions inform their thoughts, perceptions, and physiological responses. Her passion for emotions research made for an easy transition into the museum world where she works in research and evaluation at the Museum of Science, Boston. Currently, she explores the importance of emotions in museum learning experiences while learning about new affect-based technologies. As a member of the Writing Scholars Workshop, Sunewan hopes not only to strengthen her academic writing skills, but also to connect with museum professionals regarding the role of emotions in their work. She hopes that the work done in this workshop will help other institutions consider the importance of engaging with emotions for visitors as well as museum staff.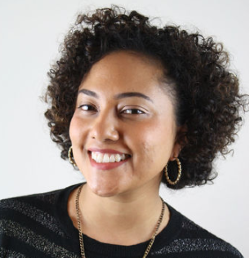 Brenda Salguero - Brenda (She, her, hers) has dedicated her career to promoting equity, diversity, and increasing the representation of people of color in various fields. Born and raised in Hollywood, CA, the daughter of two Salvadoran refugees, she left home to pursue a BA in Cultural Anthropology and Geography from the University of California, Santa Barbara. In 2014, she graduated with an MA in Museum Studies and Business Administration from John F. Kennedy University. Currently she works for Mathematics, Engineering, Science Achievement, a statewide California program dedicated to increasing the representation of people of color in STEM fields. In the interest of growing and improving, Brenda became a member of the Writing Scholars Workshop to sharpen her writing skills, learn about publishing scholarly articles, and to continue exploring issues of representation in museums. She hopes to learn how to better convey her ideas within the museum field.
More About This Project
Knology is the editorial office for Curator: The Museum Journal, the museum field's most widely circulated scholarly publication. The 2020 Writing Scholars Workshop is funded in part by the Institute of Museum and Library Services (Grant #MG-50-18-0044-18) and is supported by Curator: The Museum Journal and its publisher John Wiley & Sons, Inc. The project is led by Knology Research Fellow Kris Morrissey and Knology Founder John Fraser, and the Writing Scholars Workshop is led by Editor & Publisher Kate Flinner. The project is advised by:
Stephanie Johnson-Cunningham, Museum Hue
Laura Schiavo, George Washington University
Aletheia Wittman, The Burke Museum of Natural History and Culture & The Incluseum
Interested in hearing more? Sign up for updates on the Writing Scholars Workshop.
Banner photo credit: Volodymyr Hryshch on Unsplash