Spotlight on: Troy Ketchmore, Ketchmore Kids
This edition of the Searching for Justice series profiles the work of Troy Ketchmore, programs manager at Ketchmore Kids–a non-profit organization that uses hiphop music to teach kids about maturity, problem solving, and conflict resolution.
by
Aug 17, 2022
Around 2 million people are incarcerated in the United States at any given time (Sawyer & Wagner, 2020; Vera Institute, 2021). When they are released, most of those people will face "invisible punishment" (Travis, 2002) such as community supervision requirements, fines, and denial of voting rights. Unfortunately, news media coverage of the difficulties of reentry has some major gaps. To fill these gaps, the Kendeda Fund is supporting PBS NewsHour's Searching for Justice series – and Knology's independent work to convene experts who are providing formative feedback on the series. We're amplifying those experts' voices and their work through a series of brief profiles.
All of the videos on Troy Ketchmore's YouTube page start with the same hiphop clip:
I had to get to know my father through a jail phone
Just like my father or my dog, I never tell on
Locked us in cages, just wishing that we could bail home
In the full song, "Jail Phone," BiggMoneyPeriod lays out all the ways that mass incarceration has shaped him and his community for the worse.
Ketchmore didn't write this song, but it's the best possible introduction to him and his work with Ketchmore Kids. Hiphop is an art and a culture that feels like home to Ketchmore's community, and that's how he works.
Ketchmore is the Programs Manager at Ketchmore Kids, a non-profit organization he and his sister Chanell founded in 2005 to "catch more kids than the streets, catch more kids than the drugs, catch more kids than the gangs." And kids is a relative term: he works with people ages 12 to 25, and sometimes well into their thirties. "'Kids' is about mentality, not age," he tells me, describing all the life experiences people miss—from their high-school prom to their first heartbreak—when they go to prison young.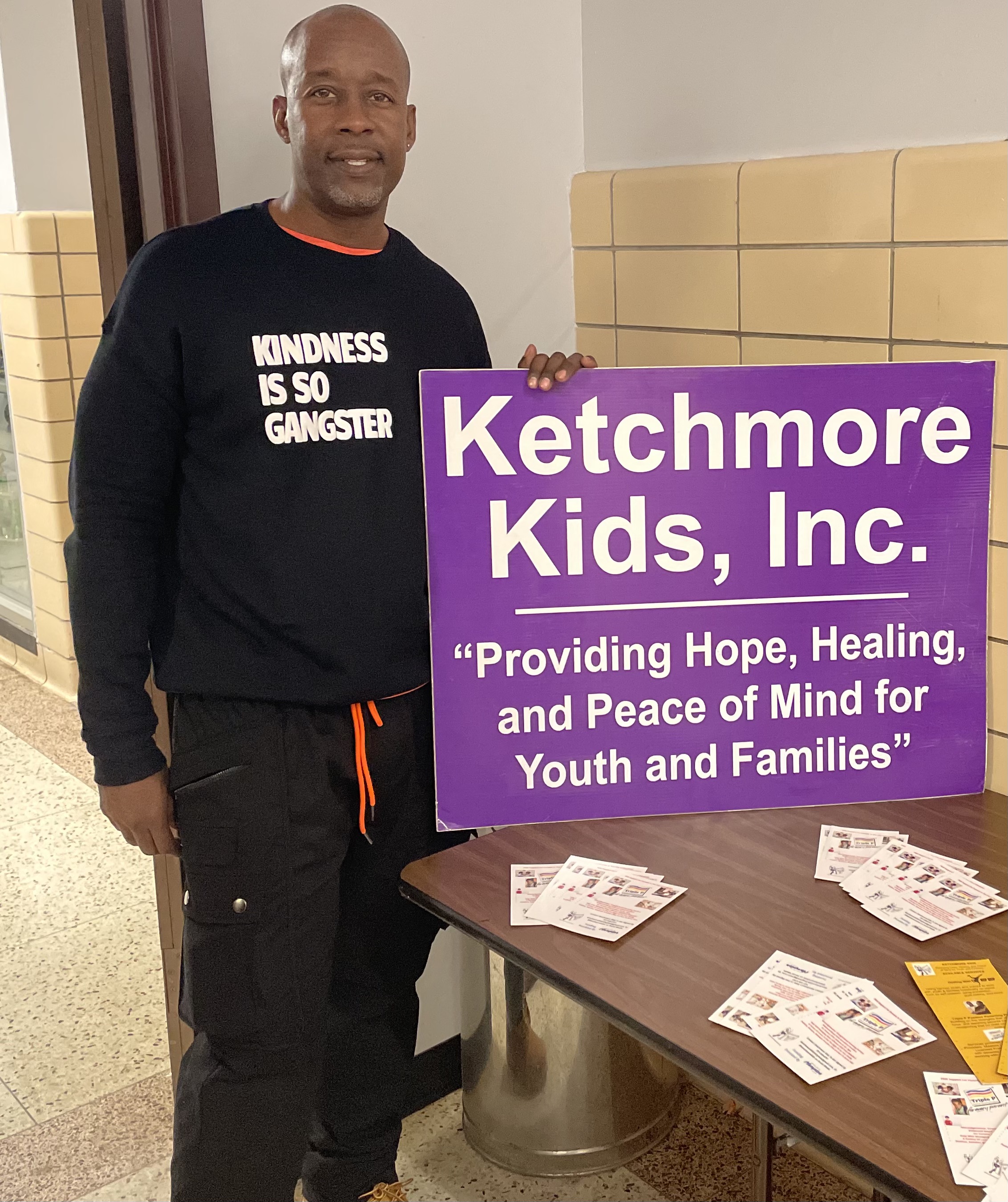 Through parenting classes taught by Ketchmore's mother and sister, and a program called the Think Tank that he leads himself, Ketchmore Kids teaches maturity, problem solving, and conflict resolution in community. They use hiphop music to teach a kind of media literacy, to help community members "decipher the difference between entertainment and real life." Ketchmore's favorite artists for teaching focus on the struggle, and they call out the empty promises of gang life. His perennial favorites are anything by Public Enemy and KRS-One's "Love's Gonna Get'cha":
Every day I see my mother struggling.
Now it's time I've got to do something.
I look for work, I get dissed like a jerk,
I do odd jobs, and come home like a slob,
So here comes Rob—he's cold and shivery.
He gives me two hundred for a quick delivery.
I do it once, I do it twice,
Now there's steak with the beans and rice.
Ketchmore doesn't believe in silver bullets. "It's going to take all of us," he says. "That village to raise a child that we talk about—that's all of us. You're not gonna legislate your way out of the problem or incarcerate your way out of it. You have to partner with the community if you want to see results."
The work is hard. Ketchmore worries about his ability to be there consistently for people who need a role model when he rarely gets paid for the speeches he gives and the events he runs. He partners with youth facilities to mentor the teenagers inside, and these organizations have big enough budgets that it helps. But he also partners with other grassroots organizations that (like his own) never have quite enough money.
But the work is rewarding. The core is changing people rather than changing the world: "If you change the world and not the person, we'll just create the same old world." He loves seeing people feel like they can succeed—and they want to try. Ketchmore wishes he had a big brother who mentored him and helped him, so he is trying to be that brother for as many members of his community as he possibly can. Nothing pleases him more than hearing from parents that their kids loved the program.
In addition to Ketchmore Kids, he is working on a podcast, "Life After Life," about saving lives after serving a life sentence. And he wants to do even more, to keep learning and keep working and most of all, to keep growing. As he tells me, "As human beings we grow and develop, period. That's the goal. How you grow and develop, you have a say in that."
Photo credit: Chanell Ketchmore